How to Tell if your Firewall is Obsolete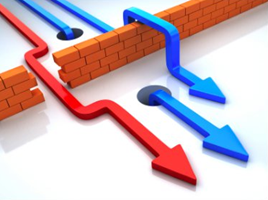 We are amazed at how often we find businesses with an obsolete firewall that is putting the company at risk – and they don't have a clue if they are currently being targeted.
In a burglary, how many times do the bad guys bang down the front door and then take what they want?  The answer would be never.  The bad guys sneak around and try to find an unprotected way into the house.  Today's Internet bad guys are doing the same thing and unless you know how they operate you are at risk.
Old school firewalls did a great job of keeping hackers from entering using techniques designed to disguise your internal network information. In today's network security climate, it's critical to have a security solution that provides more than that.
Moving Beyond the Firewall
UTM isn't new, in fact we've been installing and managing the Fortinet brand of UTM solutions for several years. The reason for this post is that in recent weeks I have had conversations with several prospective clients who don't know if their firewall is a UTM, and if it is, who's managing it.
Let's back up a bit and describe in detail how a UTM solution works. First, it's a firewall.  Second, the UTM doesn't allow Internet traffic to pass through without scanning the exact contents of the traffic. Obviously, we want to block viruses, Trojans, bots etc. But what if the virus is new and there's no definition file available to tell the UTM that it is in fact a virus. This is where the new generation of UTM solutions kicks in.
The New Generation of UTM
Every piece of software has a "signature".  Since bad guys are typically lazy, they purchase most of their bad guy software from other bad guys then make minor changes. This means that even a brand-new virus, bot or Trojan has a recognizable signature and it gets blocked.
Blocking can also be made for objectionable and unproductive content. For example, ecommerce email marketing company Remarkety reported that the most effective time to send purchase solicitations via email was 8:00 AM – 1:00 PM Monday thru Friday. This means members of your team aren't working, they're shopping.
More than Just Plug & Play
Now that you know what the UTM solutions can do, you should run right out and purchase one right? Wrong.  Not all UTM solutions are created equal.  Additionally, who will be responsible for managing, updating and configuring your new UTM?  In short, we will.
Computer Systems, Inc. is responsible for managing close to 100 Fortinet UTM solutions at client locations all over the country. Our expertise in configuration and management of these devices can work for you too. We don't offer several brands of UTM solution. Our philosophy is to focus on a single, best-in-class solution so that we can be experts. Why would you want to have someone who is trying to manage many different types of UTM solutions work on yours?  You wouldn't, plain and simple.
With a subscription to our Cyber Sentry Managed Security Solution Provider (MSSP) our network engineers are constantly listening to your Fortinet firewall. In addition, your Fortinet UTM firewall will constantly scan traffic for potential viruses and malicious content embedded in web traffic.
In addition the software configuration in your Fortinet UTM firewall can be set to: prioritize traffic for certain applications (voice apps, business critical apps, etc.), block certain applications from sending or receiving traffic, alert us if a user may have a bot or trojan.